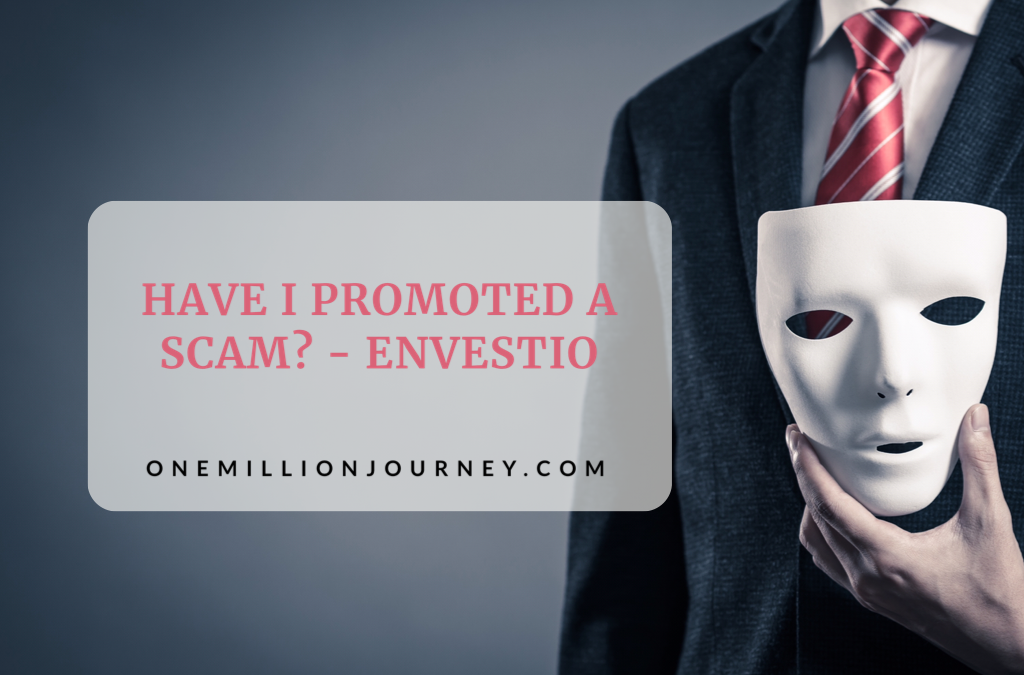 Have I Promoted A Scam? – Envestio
The short answer is: IT SEEMS SO (legal authorities to decide and confirm)
No one enjoys recording bad experiences, and writing about them is challenging but necessary to contribute to the whole experience and learning curve.
As a general reminder, the main purpose of this blog is to post my journey towards (hopefully) one million euros at some point, and as such it involves documenting all type of experiences that I encounter all the way long, the good, the bad and the ugly.
Following the Kuetzal scandal and its subsequent collapse, I suspected that there would be more concerning news in the industry, but not at the speed we've seen it over the last few weeks – my eyes see panic, uncertainty, lack of control of the situation, confusion and harmful speculation.
I'll assume that readers know about what's happened with Envestio. If you haven't then that's good news for you. I won't detail the whole story on this post, but you can read more on these articles:
My apologies
Albeit I didn't promote Envestio heavily on social media or paid any advertising, I reported the company as the best platform performer on many of my monthly updates and also highlighted it on other of my blog posts like this one.
I am conscious that my reputation as investor has never been in a good place since the start for many, as well as others have thought I had learned a big lesson, and hence, I should be taken more seriously.
Congrats on those who thought the first and I am terribly sorry for those who thought the second and used my links to join Envestio.
Results are the real evidence of any success or failure and that's what counts whether we like it or not.
My total paid income from Envestio is 30.9 € (including unpaid), which tells me that I referred 3 or 4 people in total. It is not much since most of my readers are UK based and these platforms are European, but it still leaves an unpleasant feeling. Whether I referred a million people or just one person, the situation still deserves an apology. If you think you were referred by this site, please get in touch with me privately (see contact details on my about page).
My Envestio loss, mistakes and thoughts
My Envestio portfolio has vanished even faster than my forex algo trading account last year, which is impressive, indeed! Will that be listed on the Guinness book of records? Perhaps it should! As it only took some seconds for a bunch of cowboys to switch off-site and run away with millions? Who knows, maybe they converted Euros into the latest untraceable rubbish cryptocurrency created from nowhere? Or maybe they are wearing Hawaiian shirts and drinking cocktails in The Bahamas by the side of their recently purchased Yachts?
Guesses could go on and on, I will leave it to the police to find out as it is their job.
So, it's "laughing" time now! How much did I lose this time?
I deposited a total of 5,000 € and withdrew -1297 € which means I contributed to my FIRE FIRED pot another 3706 €.
For the curious ones see my Envestio page updated.
Althought it is not a lot of money, it still sucks. But, what bothers me the most is to have promoted a "financial" company that has turned out to be what is most likely to be a total fraud*, and more after my previous experience.
* Police hasn't confirmed it yet, it is under an investigation.
At the moment I am hoping that there won't be anymore, but some serious concerns are emerging about Wisefund. Read bottom edits on this post.
So, is there anyone to be blamed? Does a real millionaire mind blame others for his own acts?
Rich people believe "I create my life."
Poor people believe "Life happens to me"
I know most people thinks that this is BS, which precisely highlights the same reason why most people aren't rich.
Is it just a coincidence?
Major mistake
My mistake was to short cut due diligence time by relying on other people opinion and following the crowd. (also called a cheerleader blogger apparently).
But the thing is, how does someone working full time perform deep due diligence when I am lending my money to a hundred of microloans? Our time is our most valuable asset, is it worth to spend hours of research for a 100 Euros loan?
Diversification now seems to become a time killer and a big question surges to me?
Is investing in P2P for a 10-12% worth it anymore? Considering that it requires a large amount of time for due diligence?
Moving forward
The European P2P lending sector has obviously lost trustworthiness among investors (me included), especially on crowd investing companies or P2B platforms. I like to see this a simple P2P market correction that will benefit from improvement in the future. I avoid panicking, as I think it brings nothing positive to me or the current general sitiation.
I also believe that bloggers have massively contributed to the rapid growth of the sector without highlighting the potential risks an investor is facing with, and as such, has also multiplied the panicking reaction among P2P investors, who weren't fully aware of the real risks, or simply never sensed the feeling of losing money before.
Obviosuly these are only my humble cheerleader opinions, no one has to agree to them.
So, now what?
As I commented on my one-year blog anniversary post I wasn't sure where I would lead the blog next, (and hence my investment journey) and mentioned that dividend investing was making more sense to me than P2P.
Now I can confirm that this is the next direction I want to follow, which means that I will cash out money gradually from P2P platforms and allocate it towards other allocations such as dividend stocks. That will consequently change my millionaire plan statement, which will have to be revised at some point during 2020.
I also intent to charge my monthly reporting layout and limit my written thoughts about platforms.
I may remove my P2P allocation completly from my portfolio or just simply reduce it. Need some deep thinking, which means writting down a new blog post.
The FCA wants to restrict how P2P companies market products in the future by stopping mass advertising campaigns.

My question is:

Will that also affect online bloggers or the so called "influencers"? ?#P2P #lending #FCA #crowdlending #investinghttps://t.co/dqPkabCU18

— Tony @ OneMillionJourney.com (@JourneyMillion) June 7, 2019
Tags In
Tony
I am a late-thirties born and raised in Spain. Moved to England 9 years ago. Mechanical design engineering and investing are my passions. I am frugal by nature, and I hope to become a millionaire and financially independent before 2030 by sticking to a simple rule: live below your means, save and invest the difference.
ABOUT ME

Hi there! It's Tony here and I am hoping to post my journey towards one million euros.
Read more.
SUBSCRIBE TO BLOG VIA EMAIL
FINANCIAL TOOLS I USE
Online Banking
Match Betting
Crypto
Zero Commission Stock Investment Apps
(free share worth up to €/£100)
Index Funds Investing Accounts
(no management fee for 1 year, Spain only)
Others
Top Posts & Pages