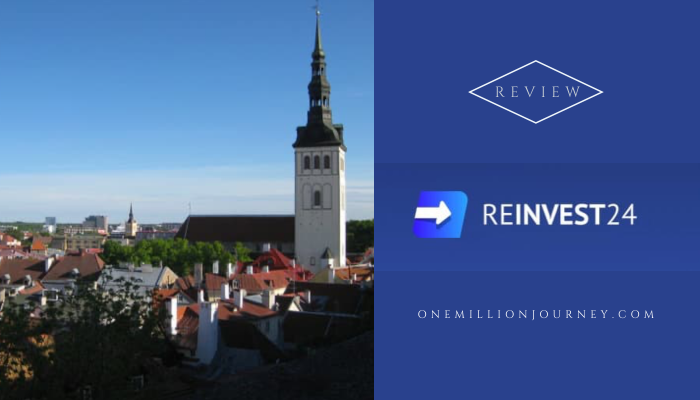 Reinvest24 Review
Here are my thoughts on the Reinvest24 platform and a review of my experience investing with them. I had taken interest in the platform in the past, but now I came back – they have renovated, got many major updates and captivated me once again. What has changed? Take a look at this review to find that out.
Introducing Reinvest24
ReInvest24 is an Estonia-based real estate crowdfunding platform that was launched in 2018. They facilitate equity loans to the investors and promote reinvesting as the main tool of increasing income.
Although the platform is quite young, the team has been in the business for 10+ years, so they've gained considerable experience in finance, real estate and IT — a fact that adds trustworthiness.
The platform allows you to invest in properties in smaller amounts than it would be required if you would've been a sole investor, and start benefiting from your investments almost immediately.
ReInvest24 works with residential and commercial properties from 5 different European markets — Baltics, Moldova, Spain and Germany. The last one was added recently so that I will have a closer look at it later. So, Reinvest24 makes it easy to diversify one's portfolio by investing across different countries, as well as different real estate types.
The platform seems to prioritize security and stability over massive exponential growth. This is something I personally like. My bad investing experience with Housers, Envestio and Grupeer has made me realize that a primary focus on growth is a big red flag. Their crowdfunding system has so far been stable and allowed projects to move faster and finish diligently on time. Someone invested and reinvesting returns since the beginning would have enjoyed steady passive income and average annual returns around 14-15%, as we'll see later. That is thanks to their project default rate is still excellently equal to zero. This to me is impressive results taking into account the bad period we are just slowly getting out of.
How does it work?
ReInvest24 focuses on building wealth gradually, with properties working for the investor. Their speciality is passive income flows. There are 3 main flows of passive income they facilitate – rental income and capital growth, as well as interest payments;
Rental Income
Rental income is a stable financial flow you are getting in regular payments once the property is rented out to a tenant. You are involved in a property, and you will be getting income until the property is used and governed by the platform. You also participate in the increase in value of the property itself, if it occurs.
Capital Growth
Capital growth is a one-time big payment the investor receives once the property is sold with the increase in its value. So, basically, thanks to their rental projects, investors have a possibility to benefit the same way, as owning the property. Even though legally, it is still a good old loan.
Interest Payments
Interest payments are the ones investors receive monthly or at the end of the loan term when they invest in development projects or real-estate-backed loans.
Types of Reinvest24 Properties
Unlike many other investment platforms, ReInvest24 has a variety of project types you can choose to invest in. Initially, their models were typical – they had projects you would have invested in, and got profits as if you owned the properties. The whole coronavirus situation led ReInvest24 to rethink their offers, and now they have 3 types of properties available to invest in – development projects, real estate backed loans, rental projects (NPLs are expected to be added later).
First, there are development projects. Those are the sites that ReInvest24 or their direct partners are implementing. These projects are secured by mortgages or collateral. If you invest, you get a fixed profit from what the projects generate.
Then there are real estate-backed-loans. It is a loan to a 3rd party with 1st rank mortgage and collateral. The financing goes to a credible borrower, who proceeds to use the funds to build a project.
Third, we have rental projects – the simplest of them all, where ReInvest24 buys a site using the investor's finances and then proceeds to renovate it and rent them, channelling all the earnings to the shareholders.
And, finally, in December 2021, they published their first business loan, offering a new high-yield (+16%) project type to investors.
Returns and other stats
According to their website, here is the average return per year on all of their projects, counting both of the financial flows available:
Total combined return: – 14.9% (yield + capital growth), which is a return of all exited projects.
Here are some more stats on Reinvest24:
●     14,000+ investors;
●     131 Projects out of which 43 have successfully exited;
●     Loans funded 18.79 million Euros;
●     Paid back to investors over 7.36 mil Euros;
●     0% defaulted projects.
●     5 covered markets;
Fees
Reinvest24 will take a 1% success fee of the principal amount only after the investment is paid back. This is used to cover property acquisition expenses. There are no initial fees when investing in new projects. ReInvest24 also charges up to 10% of rental revenue generated by the properties to cover various property management-related expenses.
Reinvestment concept
ReInvest24 states that reinvesting is one of the most powerful weapons in the investor's toolbox (hence why the name). I mean, as in any long-term sustainable investment, reinvesting makes your money work for you again and again – that's a pretty straightforward concept.
Let's take a look at an example they're setting while making their case for reinvesting, this way we can project how much our money can grow on the basis that the platform continues performing as it has been doing so far.
Imagine you have 1000 Euros. The conditions of a random project you decide to invest in, are:
● IRR – 15%
● Duration – 12 months
● Monthly payouts
If you invest 1000 Euros in one of their projects and hold it for 12 months, at the end of the loan term you'll get a profit of 150 Euros. In the scenario, you're getting 13 Euros in monthly payouts and the total balance at the end of the period will be 1,150 Euros.
But then, you reinvest.
In the second scenario, with the same conditions, you decide to reinvest our monthly payouts of 13 Euros. To put it simply, every time, when receiving monthly payouts or property repayments, you are adding 1 more violin to play for your financial orchestra. This means that reinvested claim units would also have gained you the interest. That way, you're going to have 14 Euros of monthly payouts and 1,161 Euros for the same time frame once the loan expires. It's 7.3% more in earnings compared to the first option, and it's only the difference for 1 year.
Secondary Market
ReInvest24 allows you to buy and sell as many shares as you like. The secondary market is a fantastic early exit option – especially if you want to reinvest. The cool thing is that you can sell your investment partially. For example – if you have 5,000 Euros worth of investment to sell, you can do this in one step, and 50 different investors can buy you out, 50 Euro each.
The secondary market is a fantastic early exit option. Commissions are the same as in the primary market. So, it is 1% for buyers and zero fees for sellers – while other platforms can charge up to 2.5% for selling. Also, you can earn interest and have your shares for sale – the selling period is unlimited.
Minimum investment
The minimum investment is 100 Euros.
SPV
In the same way as Property Partner, ReInvest24 uses a special purpose vehicle (SPV). This is a subsidiary company, which owns the property titles. It maintains the property and manages tenants. This arrangement also allows keeping all the properties separate, rather than managed by a single hub (ReInvest24), thus minimizing the risks and not transferring them to the rest of the projects.
Also, if anything happens to ReInvest24, all the investments should remain in safe hands, under separate SPVs.
Reinvest24 Financial health
Last month, Reinvest24 strengthened the financial stability of the platform by increasing its share capital from 2,500 EUR to 125,000 EUR. Also, their last publicly available financial statement shows a profit of 2,000 EUR.
The website at a glance
The website is intuitive, well-designed, and relatively easy to navigate. The main page displays key aspects to let you get to know ReInvest24, they also provide their rather cool investment calculator – an easy yet smart app that shows you how much you can earn on every investment.
Lower on the Home page, they also display all the properties available for investments, as well as their type, the amount they're striving to collect and the income you are going to get if you decide to invest.
A detailed project card displays all the info you might want to know about the project – like this >
As well as some details on the area, its location and the properties of the object, per se.
There are also parts of the website you see only if you register and become a member – such as your own profile, portfolio, and more deets on the projects you've invested in.
Getting started with Reinvest24
The platform has a transparent way of explaining how the job flow goes, and the "how it works" and faq sections are set up beautifully. One has multiple "calls to action" to begin investing right from the front page.
Once you click the button that invites you to begin investing, the site offers you to submit a registration form. From there, it's a slide.
My returns and experience after one year (2021)
My first investment in a Reinvest24 project was in December 2019. It was a high-yielding office space in Rocca Al Mare, Tallinn, Estonia. At that time, I used the platform EvoEstate*, which is a real estate crowdfunding aggregator, to invest in rental projects that I found interesting.
The rental yield of 7.4% and 5.8% projected annual growth was promising, but what I liked the most was the 8-year notarized rental contract with the established company in which if the tenant cancels the contract, Reinvest24 could charge 12 months rental fee as well as 3 months deposit. A notarized rental contract is the same sort of contract we have in our family warehouse, which has provided us with stable rental income since 2006.
After placing my investment in December, I started earning rental income in January 2020. I kept my shares and received payments for 6 months until I took the decision to sell my shares on the secondary market. The Covid-19 unexpected situation placed office and commercial properties in a riskier environment, so I did not feel confident taking the risk.
This is the trajectory of my investment:
Now, having a look back at how the property has performed during Covid-19, I realized I made a mistake. Rental payments have not been affected at all and continued as normal. Certainly, annual capital growth won't be probably any close to 5.8% for the short term, but it makes sense given the situation. Shares of this property are now selling at a 3% premium on the secondary market. I keep checking them out often so I can rebuy some but they never seem to be discounted or any cheaper.
Rejoining Reinvest24
This and the fact that most of their property portfolio continued to perform well without major issues convinced me to rejoin Reinvest24* in April 2021, but this time directly with the platform as opposed to via EvoEstate*.
After pondering about it for quite some time, I've decided to rejoin the platform @ReInvest24

Why?

– No major issues during Covid-19
– High historical average IRR of 14.8%
– Improved transparency
– Bonuses until 12.05.21

Check it out:https://t.co/zNxMKSKWPD
*Capital at Risk

— Tony | Onemillionjourney.com (@JourneyMillion) April 30, 2021
Over the same period, other real estate crowdfunding platforms I use did much worse. Property Partner (see returns so far here) suspended dividends on ALL properties and Housers (see returns so far here) is an absolute joke.
So, what I have been up to since rejoining? So far, I've invested €1000, in another office space similar to Rocca Al Mare. Tanel Orro, CEO of Reinvest24, gave us a video brief of the investment opportunity:
This is another aspect of Reinvest24 I like. You get to know many of the projects available via videos on their YouTube channel. They also follow up the project status with blog post updates or videos recorded on site. I value this a lot since it adds trustworthiness and professionalism towards their investors.
I write monthly portfolio updates on my investments, so make sure to follow them or subscribe to the blog if interested in following up on the performance.
Latest news – Reinvest24 expansion to Germany
Last week was a great surprise for Reinvest24 investors as they announced their expansion to the German real estate market. They also published their first project, which is a rental project, with a rental yield of 6.5% and a planned final yield of 12%. It is located near the Polish border in Eberswalde and is only 50 km from Berlin.
The target return should be achieved by increasing the value of the property by renovating it. The property will be sold again in two years as planned. And after Estateguru*, this is the second platform from Baltics to expand to Germany. For now, Reinvest24 has a representative in Germany who will take care of all the documentation and also manage the project, but overall they are getting ready to open a branch there as well.
Regulatory updates
Currently, Reinvest24 is in the final stage of receiving the financial institution licence in Estonia.
Apart from that, they are preparing the platform for the European Crowdfunding regulation, which will come into force on 10th November, this year.
Conclusions
Positives
● Good ambitious team, reliable professionals that have insights.
● All properties are secured by a 1st rank mortgage or collateral.
● Great diversification possibilities, 5 countries.
● "Covid-19 proofed". 0% default rate so far.
● The secondary market is active.
● The SPVs are cutting the risks.
● Detailed and transparent info.
● High yields up to 15%
Negatives
● Not regulated (although on the final stage to become a licensed platform)
● Minimum investment is 100 euros – might be hefty for some.
● 1% success fee
Final words
Overall, Reinvest24 is a solid real estate crowdfunding platform that has not disappointed investors so far. Rental yields are among the highest you can find in the industry and the recent expansion to Moldova, Spain and Germany allows investors to diversify some of their profits into another investment vehicle; lending to development projects. However, they still need to show that they are as reliable with developments loans as they have been with rental properties, that is why I plan to primarily focus on rental while I test loans investing in fractions of €100.
Disclaimers
I'm not paid or employed by Reinvest24. I have invested and continue to invest my own money through this platform. The sign-up and (*)links on this website are affiliate links. When you sign up for an account through my website, I receive an affiliate fee directly from the company, in some cases, you will receive a bonus too.
I donate 50% or any earning made on this blog to Kiva and invest the other 50% in ethical loans, stocks or ETFs. I show it transparently on my monthly portfolio updates.
** This Reinvest24 review is for information purposes only and should not be regarded as investment advice. Opinions expressed in this Reinvest24 review are current opinions based on my own personal experiences. Equity investing contains risks, so never invest more than you can afford to lose. **
Tony
I am a late-thirties born and raised in Spain. Moved to England 9 years ago. Mechanical design engineering and investing are my passions. I am frugal by nature, and I hope to become a millionaire and financially independent before 2030 by sticking to a simple rule: live below your means, save and invest the difference.
ABOUT ME

Hi there! It's Tony here and I am hoping to post my journey towards one million euros.
Read more.
SUBSCRIBE TO BLOG VIA EMAIL
FINANCIAL TOOLS I USE
Online Banking
Match Betting
Crypto
Zero Commission Stock Investment Apps
(free share worth up to €/£100)
Index Funds Investing Accounts
(no management fee for 1 year, Spain only)
Others
Top Posts & Pages